Please note: The black color variant is currently unavailable in Australia and Japan, while the white color variant is in stock.
【Find Nearby】: Use the Find My app to ring your ATUVOS tag through the built-in speaker to help find your stuff (loud ringtone, 80-100dB), or ask Siri for help. The found range is up to 200 feet, and when out of Bluetooth range, you can use the Find My app, which will mark where your ATUVOS tag is now and guide you back to that location to find it.
【Find Far Away】: ATUVOS smart bluetooth tracker finds items further away with hundreds of millions of Apple devices in the Find My network. (You don't need to download other paid apps).
【Privacy Protection & Lost Mode】: For privacy reasons, the Find My app network is encrypted and anonymous, and location data and history are not stored on ATUVOS tracker. Put ATUVOS into the lost mode to be automatically notified when detected in the Find My network. If your ATUVOS locator is lost, add your contact information so you can be reached when someone scans the NFC on your lost ATUVOS.
【IP67 Water-resistant & Replaceable battery】: IP67 Water-resistant and durable, the delicate battery cover design prevents children from opening easily. Powered by a CR2032 coin cell battery, the battery life is up to more than 1 year; when the battery is low, ATUVOS smart tag will notify you to replace the battery.
【Multiple Uses & Gift Ideas】: ATUVOS smart tracker helps you track your keys, wallet, luggage, bags, cars, and other importance. Great gifts for your family during birthdays, Christmas, and any other holiday.
【Customer Service】: We have 24-hour customer service; if you have any questions about using ATUVOS Item locator, please feel free to contact us to solve it.
Shipping:

The product will ship 1-2 business days after purchase, and delivery will take 3-7 business days. All orders will be dispatched from our US, UK EU, or Canada warehouse.

*Please note: We usually arrange packing and shipping information on the day you pay, but the tracking number update may or may be delayed, which will be affected by logistics.

Refund:

30-Day Refund Policy

For any reason, undamaged products can be fully refunded within 30 days after the delivery date to the shipping address. Once the item is returned to ATUVOS's warehouse for inspection, the refund process will begin.

Please go to the footer menu to view the shipping policy and return policy.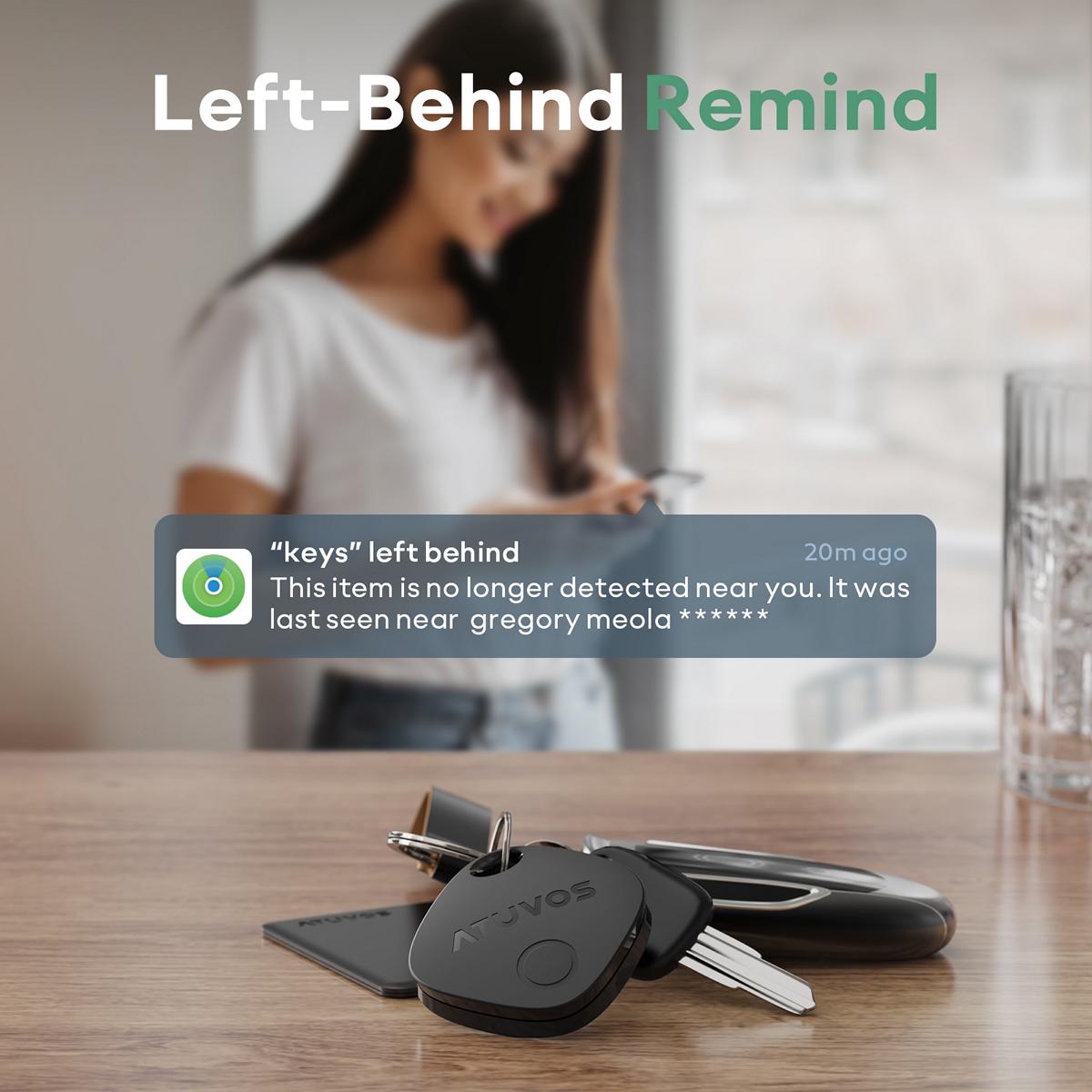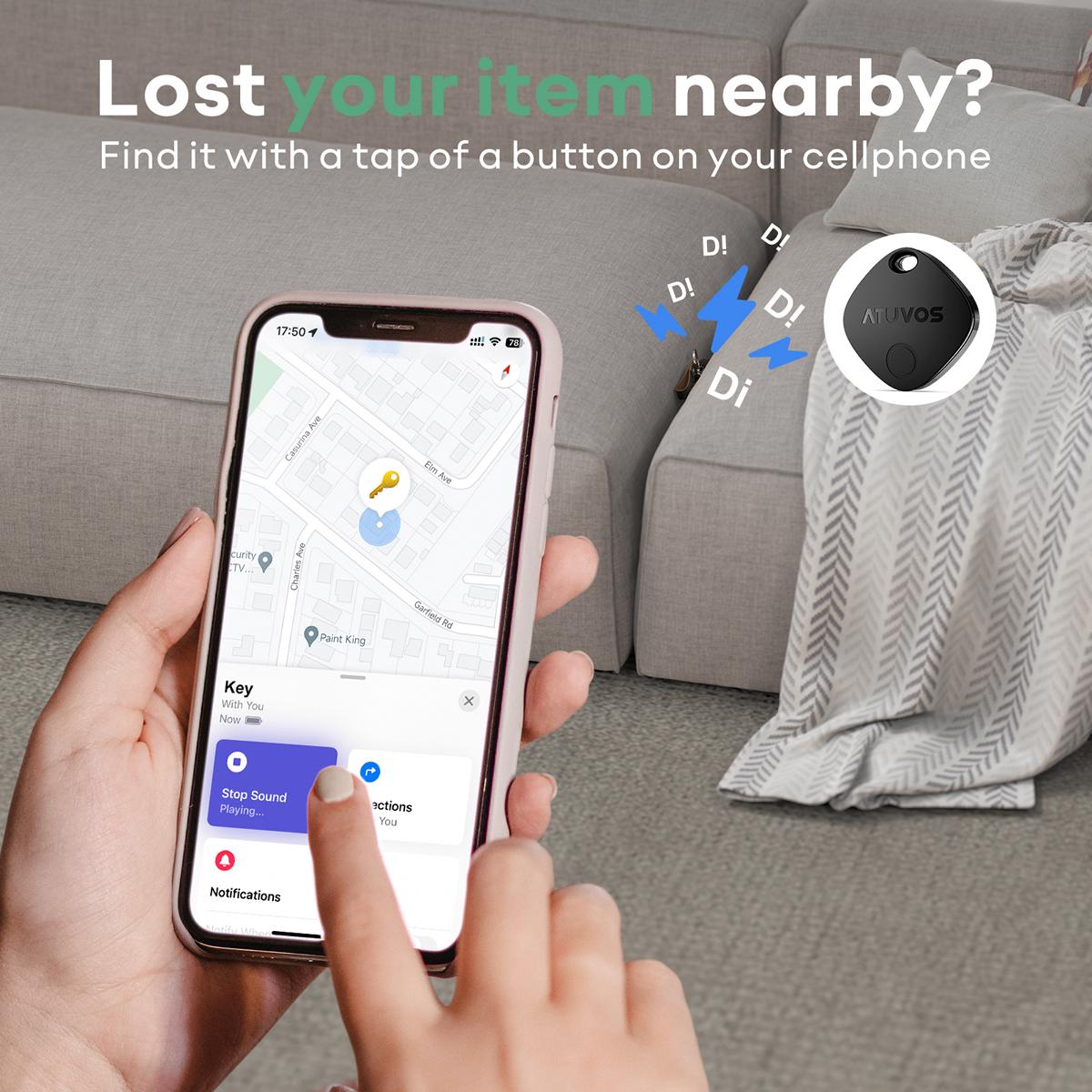 Absolut zufrieden!!
Klein und fein.
L?sst sich sehr gut in ?Wo ist einbinden
Zuverl?ssig!
Works a treat
Work fine first time no issues. Not the loudest beeps so if youre hard of hearing or buying for an elderly person probably not the best option. Customer excellent 1/4 tags were faulty, seller sent out replacement asap 10/10
Easy to operate and you can shut them off to save battery
You can turn these on with a single touch, then turn them off by holding for three seconds, or if you want to reset the tag you hold it for 10 seconds, and youll hear one long into short beeps. they are about the same size and weight as the Apple tags and they work with the Find My whatever app.
Great product
Great product, thank you.
Sehr praktisch
Super praktisch. Endlich finde ich meine Schlssel ohne viel Stress. Eine gnstigere Version und dem von Apple. Es ist Kompatibel mit der App von Apple und ist auch leicht einzurichten.